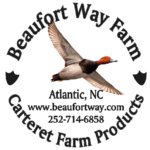 Our farm is located in Atlantic, NC, with products of Duck Eggs and Ready-to-Cook Duck and Goose (including Whole Birds, Breast only, or Leg Quarters Only).
We also have live birds for sale, e.g., peafowl, ducklings, and goslings, as well as "hatching eggs."
The community of Atlantic is located in the beautiful and pristine extreme eastern portion of North Carolina on Core Sound.  Cedar Island and Ocracoke are to the north of us, while Harkers Island and Beaufort are to the south of us.
Duck Eggs
When our ducks are laying, we offer duck eggs for eating/cooking.  The Heritage duck breed we utilize are Ancona Ducks.  We also offer eggs from Pekin and/or Muscovy Ducks.   You can order Duck Eggs on our Duck Eggs page.
Contact us if you would like to order duck eggs for hatching.
Duck and Goose Ready-To-Cook
We offer processed birds that have been cleaned and are ready for you to cook..  Our current Heritage waterfowl breeds we offer are Ancona Ducks and Pilgrim Geese.  We also offer other duck and goose breeds.
You can view (and order from) our current inventory on our Ready-to-Cook page.
Fresh duck or goose is only available as a pre-ordered item.  Please call, text, or email us as far in advance as possible to reserve a bird, using the information on the Contact page.  A 50% deposit will be required.
Pick-up
You may purchase any of our products at the Olde Beaufort Farmers' Market on Saturday mornings (10 AM) this winter with no advance notice.  Additional Pick-up locations are displayed on the Order Form on our Ready-to-Cook page.
Live Birds
In addition to our Heritage waterfowl breeds, we also have a few peafowl.  We just enjoy watching our live birds in the backyard…  Please visit our Live Waterfowl page.